What aspects should be paid attention to in outdoor advertising digital signages?
What aspects should be paid attention to in
outdoor advertising digital signages
?
Outdoor advertising machines can not only play a good information dissemination effect in the outdoors, provide the freshest consultation and real-time hot news for the people passing by, but also be unrestricted in bad weather, and various fashionable shapes can attract many attention. So, what aspects should buyers pay attention to when they want to customize the outdoor machine?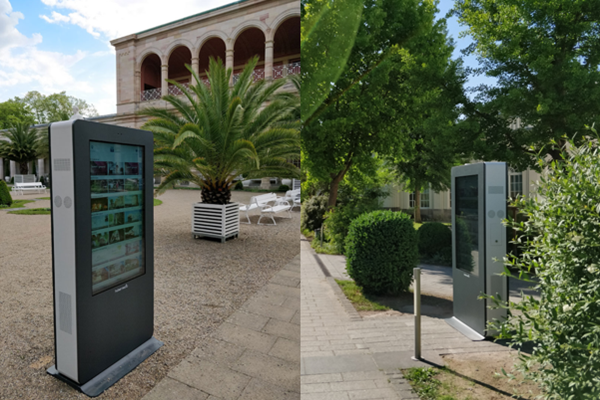 1. First of all, it must be able to attract attention and have a novel and eye-catching appearance. Therefore, the casing adopts anti-scratch, anti-corrosion all-metal structure material and elegant metal texture appearance, which can meet the various appearance customization requirements of customers. At the same time, the tempered glass adopts high-perspective, low-reflection, zero-ultraviolet, anti-glare, can block more than 50% of solar radiation, anti-riot, outdoor anti-glare A-pressed glass design that meets international safety glass standards, which can make the LCD screen in direct sunlight Not blackened.
2. Secondly, the high-definition display of multimedia. The requirements of outdoor advertising machines have certain particularities. The first solution is that the display content of outdoor advertising machines needs to be visible under strong outdoor light. To meet this demand, the brightness of the display needs to be improved. However, in China, only a few companies support Get hold of this high-brightness technology. Coupled with a professional wide viewing angle LCD panel and unique LCD color reproduction technology, it highlights the video and picture information to be displayed by the outdoor advertising machine, providing great convenience. Greatly enhanced the advertising effect.
3. Then, test, good durability. Outdoors, it is necessary to deal with various conditions of natural weather, hot in summer and cold in winter, which puts forward requirements for the temperature solution of outdoor units. Using advanced intelligent cooling and heating integrated air conditioning temperature control, through the air circulation cooling system, the internal temperature and humidity are effectively stabilized, so that the durability and service life of the product are greatly improved. At the same time, it is also faced with waterproof, dustproof, air duct, typhoon resistance, shock resistance, and corrosion resistance, which all need to be reflected in the product structure design. The outdoor advertising machine adopts an all-metal structure. Through the application of professional waterproof materials, it can achieve high temperature and low temperature resistance, aging and wear resistance, and achieve moisture-proof effect.
4. Finally, the outdoor advertising function is environmentally friendly and wireless humanized control. The advantages of high-definition display and efficient information dissemination are essential. Customers can set the time of automatic switch on and off, which reduces the cost of electricity consumption, thereby reducing the cost of use for customers.