Why digital signage is better than traditional advertising?
Compared with the digital signage under the traditional window operation, the modern digital signage solution has high-definition, high-resolution, vivid colors, and delicate and delicate display quality on the basis of hardware. It can be rotated to erect according to different needs. Display or horizontal display, you can also adjust the angle at any time according to the field of view and other management application modes, so that it presents the unique application advantages of human-computer dialogue interaction, and meets the needs of more users for scene experience. This also emphasizes that in the rapidly changing information age, digital signage not only satisfies the visual communication of people's senses, but also pays attention to the experience of human-computer interaction functions on the basis of display, in order to achieve a more sufficient information display.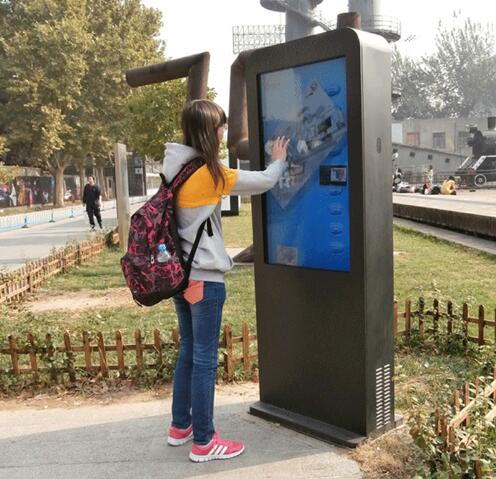 The current interactive applications of
digital signage
are numerous, such as the video interactive wall built in the museum, which allows people to have close contact and communication with the exhibits; set up through the hospital's internal network platform to become a doctor's multi-functional assistant, which can not only Help patients provide medical knowledge and information, and can solve the problem of queuing and registration, and provide doctors and experts introduction, which is convenient for patients to diagnose according to their specific needs; not only entertainment and information can be displayed at the gas station, but also QR code participation can be performed on the display screen Events or sales; in the retail industry can bring a better shopping experience to customers, etc. Obviously, such a medium that achieves services through digital display makes interactivity become the application window of digital signage, further enhancing the human-computer interaction experience.
Digital signage consists of hardware, software, content, system integration, network and background services to form a digital signage solution system, that is, based on network technology, deeply integrated into the interactive engine technology of multiple voices and images, enriching various images, videos, texts display, and unified control and management of it, to provide users in various industries with an intelligent and convenient interactive experience platform!
The supplier of digital signage display solutions not only integrates various system integration technologies in the digital signage industry, but also integrates advanced intelligent sensing technology on this basis, which can provide users with fresh interactive functions and make digital signage reasonably configured. One of the usage scenarios corresponding to the needs, and then the scenario-based and digital signage are integrated with each other to meet the individual needs of users, and finally realize the application of the best digital signage solution, so that the entire interactive application scenario is deeply rooted in the hearts of the people!