Retail shop window lcd display of multi function and advantage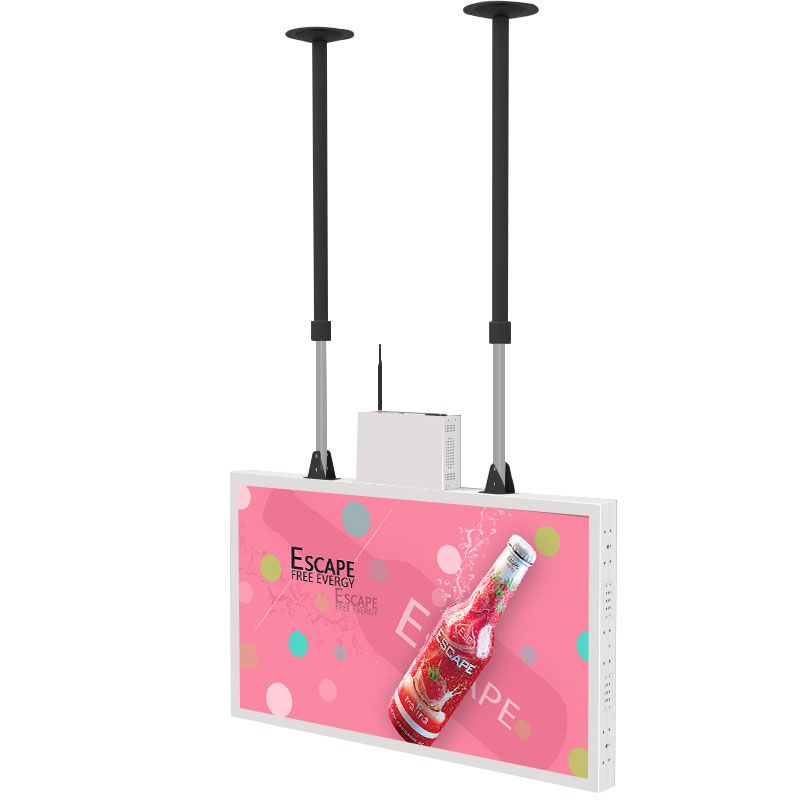 Our Retail shop window lcd display,it can be single side or double side.Face to indoor 500nits,outdoor is 2500nits,different brightness,the brightness can from 2500nits to 5000nits. It can be landscape or portrait by different mounting ways,support Iron Chain/Steel Rope,Single pillar hanger,Dual pillar hanger,floor stand dual pillar etc mounting ways. The lcd panel for pure aluminum frame,fhd resolution 1080P.It can stand with 85degree at most,so you don't have to worry about black screen due to high temperature. It support a variety of hardware interface,also support indoor and outdoor broadcas. Android or PC system for your choose.The excellent thermal management system,call intelligent CMS,by cloud management to remote control. window advertising screen more detail feature for below:
Distributed media management function: combined multimedia content of different terminal video and audio, pictures, subtitles, etc., real-time preview, editing, conversion, publishing, etc.
Distributed transmission management function: realize the large-capacity content transmission of different terminals.
Distributed authority management function: classification, division and function management of different terminals.
Monitoring room function: flexibly realize interruption, selection, skip, carousel, loop and release, stop, pause, sleep, volume control, program update, etc.
Playbill editing function: multiple editing views, easy to use.
Display template management functions: template editing, saving, real-time preview of effects, etc.
Publisher management function: various parameter configuration.
Broadcast statistical report function: provide basis for archiving, auditing and billing.
Support multiple video and audio coding standards and picture formats, and the release quality can reach the level of high-definition TV (1920x1080i/p).
Facilitate the integration with other information systems, such as advertising contract management subsystem, non-linear editing subsystem, media publishing subsystem, etc.
Support double-sided synchronous and asynchronous display, support asynchronous display, dual screen can display different content, support asynchronous shutdown function.
Support double-sided asynchronous display content, support pictures, videos, flash playback, asynchronous shutdown, synchronous use and other functions;
Through pictures, videos and other richer materials, fully display the product content to be promoted.
We all know that the current window smart advertising machines all use display screens to display advertisements. If there is a problem with the display screen, then the advertising function of the advertising machine is no different from a blackboard. Especially in the winter with low temperature, rain and snow, it is necessary to pay attention to the use of the display screen of the window smart advertising machine. The display screen's direct effect is indispensable for the good communication function of the electronic window displays, so the display screen must be used and maintained safely.