Outdoor Advertising Digital Display Screens
Shenzhen MARVEL display technology co., LTD. Is a company invested by Shenzhen municipal government to engage in multimedia Intelligent terminal, vertical ads, outdoor signage displays, electronic multimedia bus station,multimedia all-in-one, touch table, LCD splicing wall, and other commercial display equipment research and development, production, sales as one of national high-tech enterprises. The registered capital of the company is 20 million RMB.
The company adopts the international modern management mode, introduced the iso9001:2008 quality management system, and passed IP65, ECC,CCC, CE,FCC,ROHS certification. MARVEL has more than 20 industry R & D personnel, with soft R & D and design capabilities for component systems and applications,especially for outdoor signage product line; MARVEL's series of outdoor digital display signs provide a variety of options for display in public or outdoor environments. The dual screen outdoor digital signage is designed with dust and waterproof applications in mind to meet the outdoor IP65 standard.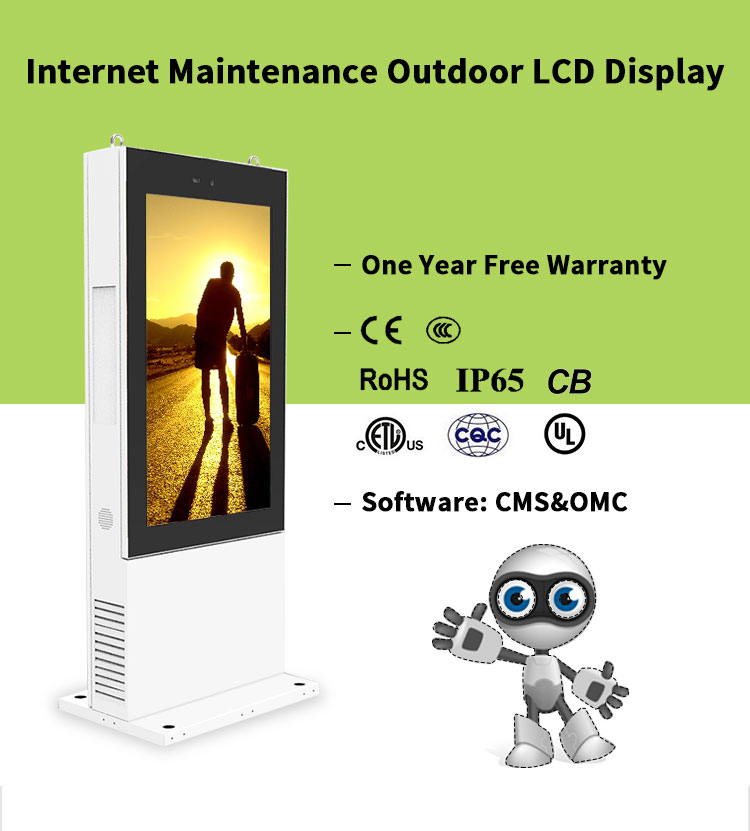 The main heat dissipation system of digital signage display is air-flow cooling system, and an additional air conditioner can also be selected, so that the outdoor lcd digital signage can also be used in an overheated environment. The cabinet material of our outdoor digital signage display is made of mainly galvanized plate, stainless steel is optional. The display can be directly installed on the ground, or special installation methods can be customized according to project requirements.
One of our biggest advantage is our own software - Outdoor LCD Maintenance Could (OMC) The main features are Monitor operation status of key components ; Remote trouble shooting -You can find out problems on your own PC,no need to go on site and check problems; Security self-protection function of outdoor advertising display
We also have free content management software (CMS),you can update content very easily by this software.. Please feel free to contact us if you have any questions or interests,thanks..