What's the Outdoor LCD Digital Signage?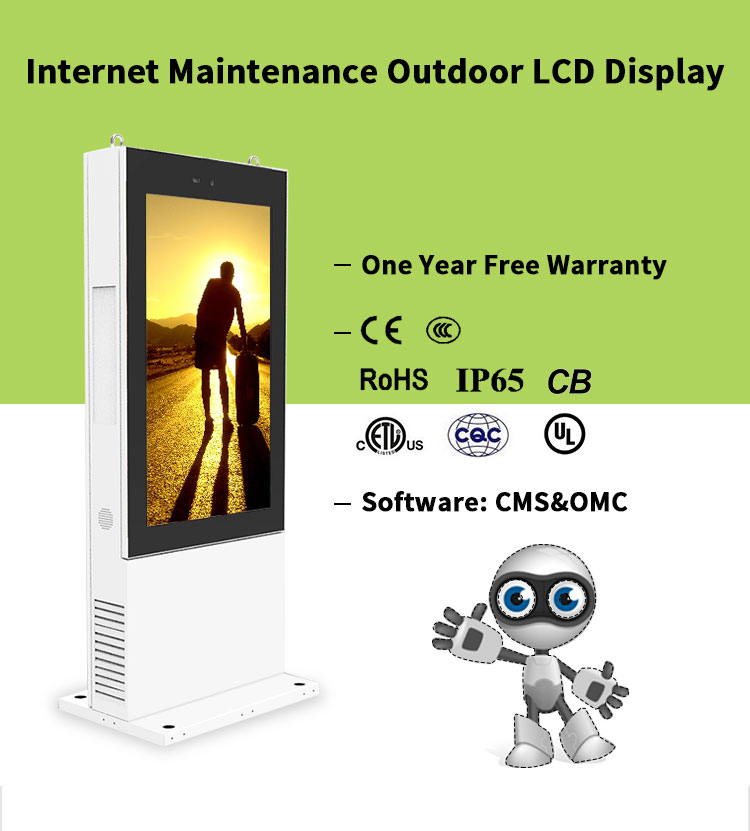 Out-of-home (OOH) advertising, also called outdoor advertising, outdoor media, and out-of-home media, is advertising experienced outside of the home, which has the feature of long service life and frequent high resolution broadcast.
Outdoor LCD Digital Signage adopts the high brightness LCD with IP65 industrial protective level casing leading technology. The end user can upload the advertisement through content management software & remote monitoring the outdoor advertising screen's working condition by OMC server platform. (For outdoor products, Marvel software department team developed super good software for remote control maintenance called OMC.)
Marvel Technology Outdoor LCD Digital Signage casing designed with a robust, IK10 level corrosion protected, outer casing to give protection from both the elements and the public. The master reason why outdoor LCD totem can be placed outdoors is that the Outdoor LCD Digital Signage display casing suitable for the harshest of outdoor conditions & with 1500-5000nits high brightness LCD panel deliver excellent legibility and visibility, even in bright sunlight.
Marvel outdoor signage displays HARDWARE features:
The exterior casing details---our outdoor displays are vandal water dust weather IK10 and IP65 level outershell is made by galvanized sheet with particularly surface finishing-heavy industrial grade of powder coating with an anti-wear texture for Outdoor using. IP65 protective level means it keeps out all airborne swarf, dust and other particles as well as being protected from any wet weather conditions, fitting the range of possible environments. The exterior housing has an IP65 rating, which allows continued use in heavy rain. Advertise with confidence in any weather. Internal climate controls ensure reliable operation from -10°C to 50°C. If your application area is strictly hot or cold, outdoor LCD digital displays with Air conditioner version support working temperature from -30°C to 60°C.
The sunlight readable high brightness LCD panel - with a protection layer of high-penetrating Tempered glass (with 5-8mm thickness) on the surface of the 1500-5000 nits high brightness LCD Panel. Marvel adoptlens scheme is generally made within 3000 nits brightness, and the latest technology can replace 5000 nits high brightness glass.Keep your promotions clear and readable in bright sunlight. Automatic brightness controls ensure your content looks its best in all conditions, for maximum customer engagement. Outdoor LCD display will be able to operate 24/7 for years without burning out.
Marvel not only can offer indoor & outdoor LCD digital signage hardware, but also developed own outdoor maintenance and management cloud software system. Marvel support supply high brightness LCD panel combined with outdoor system to customer.
For outdoor products, Marvel software department team developed super good software for remote control maintenance called OMC.
Outdoor OMC system (outdoor maintenance and management cloud software system):
1.Every product includes 10 kinds of sensors
(light sensor, door opening sensor, humidity sensor, temperature sensor, vibration sensor, safety monitoring sensor, water sensor, smog sensor, collision sensor,tilt sensor).
Problem and status monitoring software included.
3.Trouble shooting by software included.
4.Use software Remote Check key working performance by Group
5.Abnormal work alarm generation.
Marvel pursue offer high quality products and better maintenance service to our customers project!
We are a more than 12 years manufacture of LCD digital signage in China
and ship worldwide, welcome to contact!