Some characteristics of outdoor digital signage displays
The outdoor digital signage displays are designed for use in harsh environments, typically outdoors, allowing customers to display engaging advertising content in areas impossible with a standard LCD monitor. Available in freestanding and wall mount designs, the systems are built to the highest specification and some of the features are listed below:
Sunlight Readable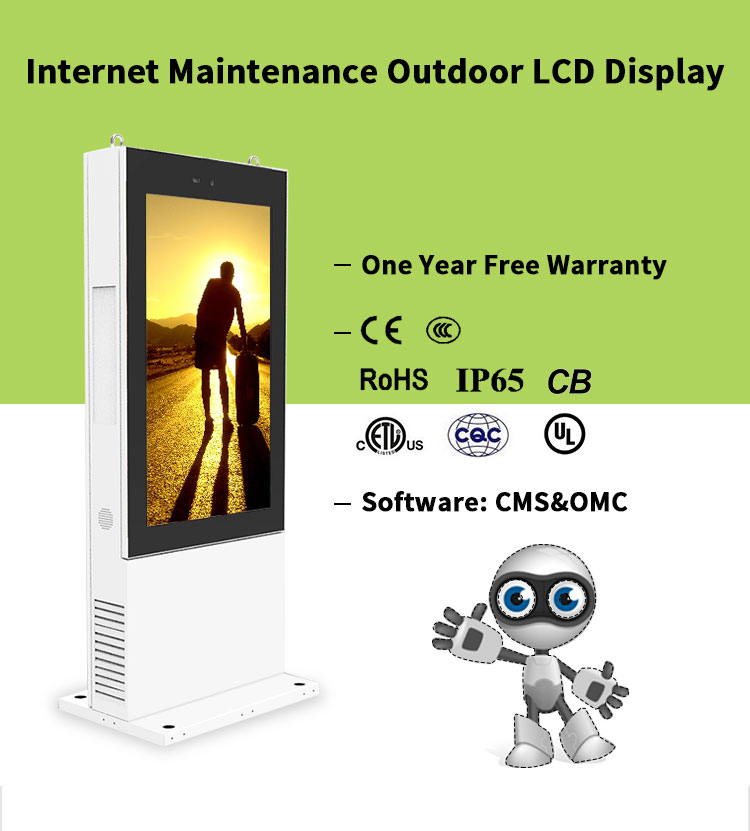 Locating LCD displays outdoors always offers the difficulty of changing light conditions. Our outdoor digital signage displays offer up to 5000 cd/m2 brightness so they can be viewed even in direct sunlight. A clever light sensor allows the display to adjust its brightness depending on light levels and allow comfortable viewing at night.
Weatherproof Design
The outer casing has been designed to look slick and offer protection against the elements. The system is made from mild steel and complies to IP65 standards for protection against both moisture and dust alongside anti-corrosion properties for long-life outdoors.
Vandal Proof
Our outdoor digital signage displays is made from quality mild steel with toughened glass on the front offering maximum protection against vandalism when located in unmanned areas. All the controls and openings are hidden and not easily accessible for increased security.
Built-in Media Player
It also includes a built-in media player which can be updated either by USB or can be network enabled and content can be controlled centrally via a cloud-based portal. The systems also have a space for a separate media player or digital signage computer should that be required.
Touchscreen Option
The outdoor digital signage display have a touchscreen option for interactive applications.