Model Number:MWE898 Outdoor Digital Display Board

Model Number:

MWE898

Brand Name:

Marvel

Certification:

CE FCC ROHS

Place of Origin:

Shenzhen. China

Application:

Outdoor

Input Voltage:

AC100~240V 50 /60 HZ

Packaging:

Bubble bag+packing foam+carton+wooden case

Delivery Detail:

By Sea or Air / Door to Door

Provide 1-3 Years Warranty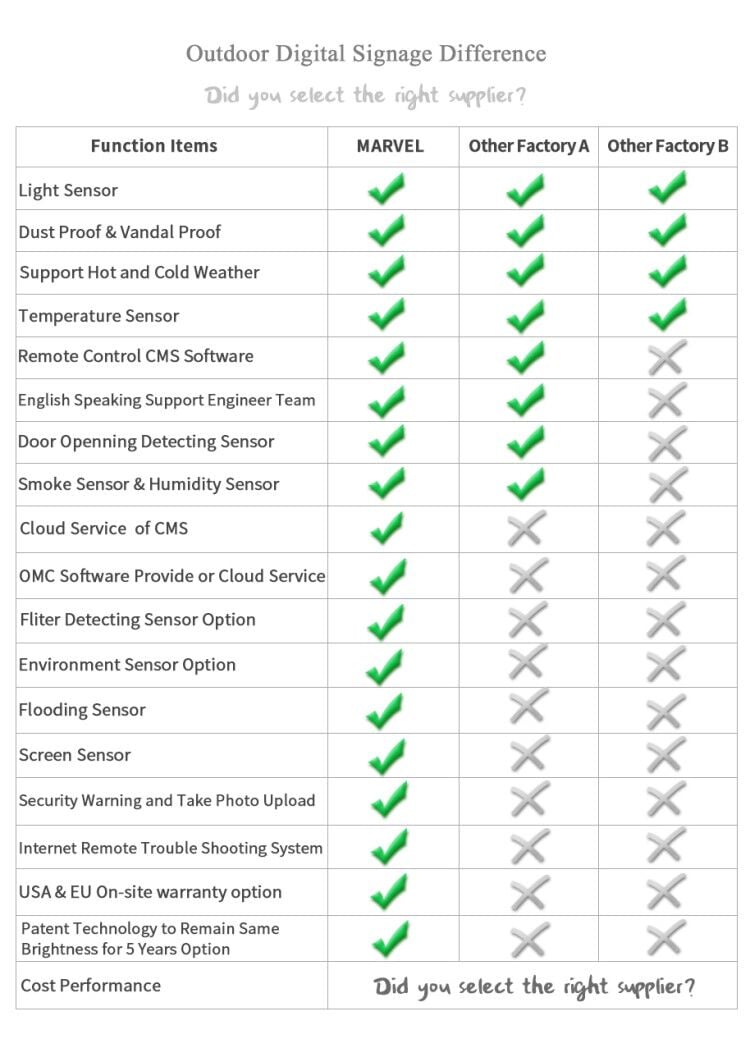 Marvel
Digital Sign Media Player
is built by Marvel professional engineering team, using high-quality all-metal casing with outdoor professional powder spraying, the cabinet is hard and firm, Marvel
Digital Display Board
is using Marvel personally to create a outdoor digital signage, its brightness can be 1000-5000 , With unique polarized solar technology, built in multi ambient sensors, backlight brightness can be automatically adjusted and manually remotely adjusted, it adapts to various harsh environmental climate changes, such as bus stations, subways, tourist areas, street navigation digital signage, whether it is windy, rainy, or snowy ,under Marvel's intelligent OMC escort, the outdoor digital signage can easily respond to various environmental climate changes, and users can easily grasp the real-time running status of the device at any time, even if the device fails Realize remote fault diagnosis and remote maintenance through the intelligent cloud maintenance platform. On the other hand, the product has a super high cost performance. Every outdoor device can be configured with our intelligent cloud maintenance platform and cloud publishing content management system for free. We have not only technical advantages but also cost advantages.
You or your clients can choose from the following revenue models:
Advertising Fees: Charging advertisers for ad play time and space. Pricing depends on factors like ad duration, frequency, time slot, and location.
Partnerships: Forming relationships with brands or stores to promote their products/services for a fee.
Content Sales: Selling custom advertising content to clients who can't create their own.
Data Collection and Analysis: Collecting and selling viewer data, and using it to optimize ad effectiveness.
Sponsorship: Finding sponsors for the machine or specific ad slots.
What we can guarantee is that the advertising machine has a 99.99% operating rate and excellent after-sales service to help you or your clients save costs.
Outdoor Waterproof Digital Sign Media Player
Digital Sign Media Player Product Description
Available Sizes: 19" ~86"
(Option)Can pass the IK10 anti-collision level test;
High visibility、anti-reflection;
(Option)Supporting marvel outdoor LCD maintenance cloud(OMC)control.
(Option)Polarzed sunglasses supporting
(Option)can supporting UV cut off and IR blocking.
Outdoor OMC system (outdoor maintenance and management cloud software system):
1.Every product inlcudes 10 kinds of sensors (light sensor, door openning sensor, humidity sensor, temperature sensor, vibration sensor, safety monitoring sensor, ponding sensor, smog sensor, collision sensor,tilt sensor).
2. Problem and staus monitoring software included.
3.Touble shooting by software included.
4.Use softwae Remote Check key working performance by Group
5.Unnormal work alarm generation.
Control interface supporting:
1. RS232 Marve provide API and instruction protocol.
2. TCP/IP Marvel provide technical supporting.
Cloud service supporting:
1.CMS :http://inf.marveltechgroup.com
2.OMC:http://omc.marveltechgroup.com
3.Marvel can support to help Customer to setup their own server.
Model

MWE898 PC Version

MWE898 Android Version

Screen

Panel Brand

Samsung & LG Full New 100% A+ Grade Brand Panel

Panel size

46" (optional,19" ~86" )

Display size

573×1019 mm(HxV)

Display ratio

16:9

Resolution

1080*1920

Viewing angle

89/89/89/89 (Typ.)(CR≥10)

Color

16.7M

Backlight

LED

Brightness

2500 cd/m2

Contrast ratio

3500:1

OS System

main board:i5-3317U(optional)

CPU:RK3288(optional)

RAM:4G,SSD:128G(optional)

RAM:2G,EMMC:8G(optional)

Operation

Windows 7(optional,win8,win8.1,win10)

Android 4.2(optional,Android4.4.4/4.2.2/5.1.1/6.0.1/7.1.2)

Connection to network

RJ45, 4G, WIFI (optional)

RJ45 ,4G,WIFI (optional)

Touch Screen

system

Touch screen

resistive, touch foil

resistive, touch foil

Touch ways

finger,touch pen

finger,touch pen

Touch dots

10dots (optional,20dots,40dots)

10dots (optional,20dots,40dots)

Durability

More than 50 million touch

More than 50 million touch

Power

Power

140W

120W

Voltage

AC100-240V 50/60HZ

AC100-240V 50/60HZ

Stability

good

good

Instructions

Interface

VGA/HDMI/USB

HDMI/USB/SD

Working

temperature

-30°C ~ 60°C(with air conditioner)

-10°C ~55°C(with fan cooling)

-30°C ~ 55°C(with fan cooling+heater)

-30°C ~ 60°C(with air conditioner)

-10°C ~55°C(with fan cooling)

-30°C ~ 55°C(with fan cooling+heater)

Material

Aluminum alloy,tempered glass

Aluminum alloy,tempered glass

Surface

Spraying,frosted aluminum

Spraying,frosted aluminum

Size

Undetermined

Undetermined

Weight

Undetermined

Undetermined

Body

Shell

Galvanized steel sheet. Thickness:2mm.

Color

Black , white , silver or customized colors

Packing

Bycarton, wooden case, flight case (optional)

Optional Functions

Anti-dazzle、Anti-graffiti、Water-proof、dust-proof、vandal proof

3G/4G Capability

Human sensor、Light sensor、Screen sensor、Humidity sensor、Temperature sensor、Vibration sensor、Safty monitoring sensor、Ponding sensor、Smog sensor、Collision sensor、Tilt sensor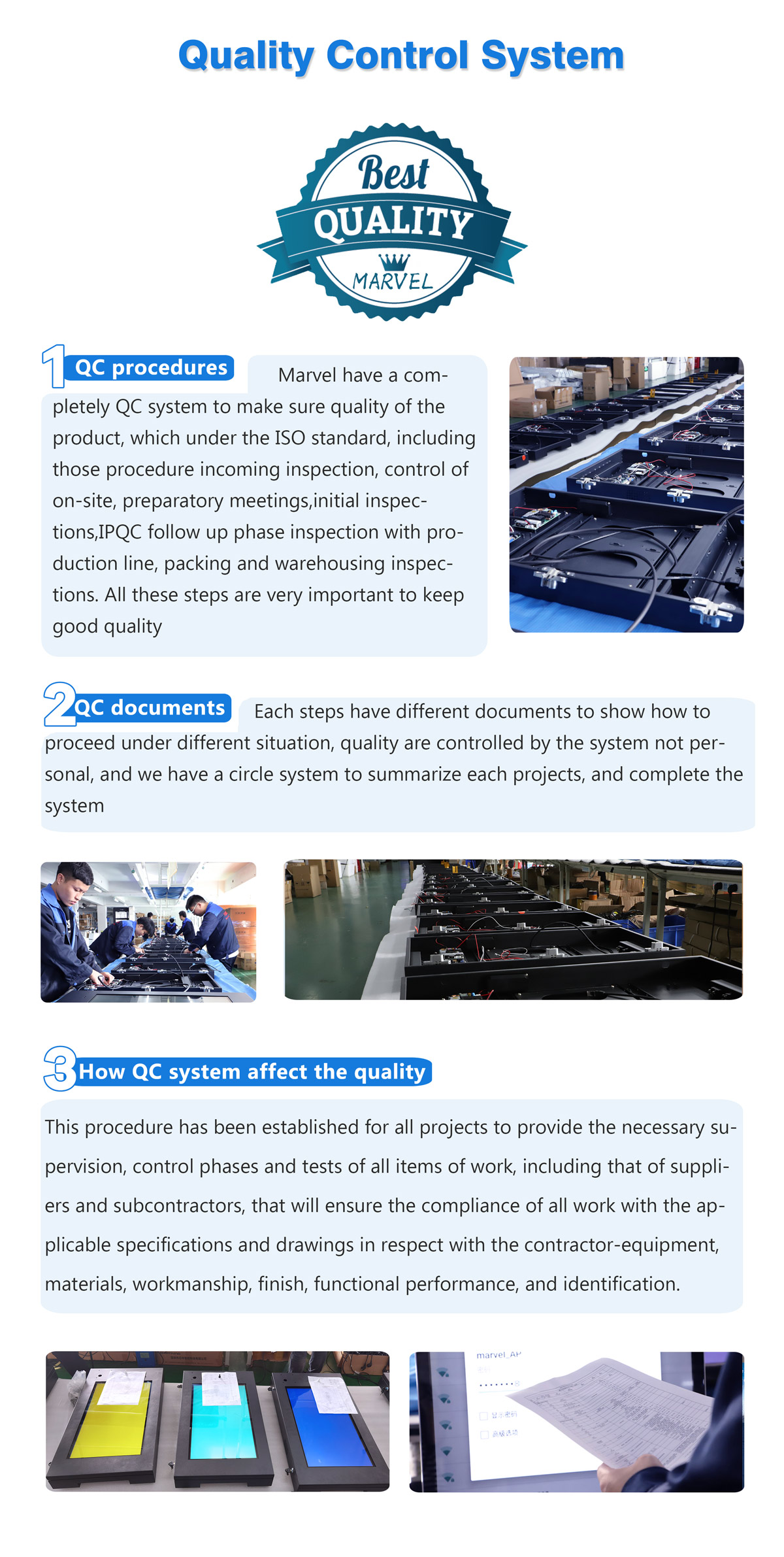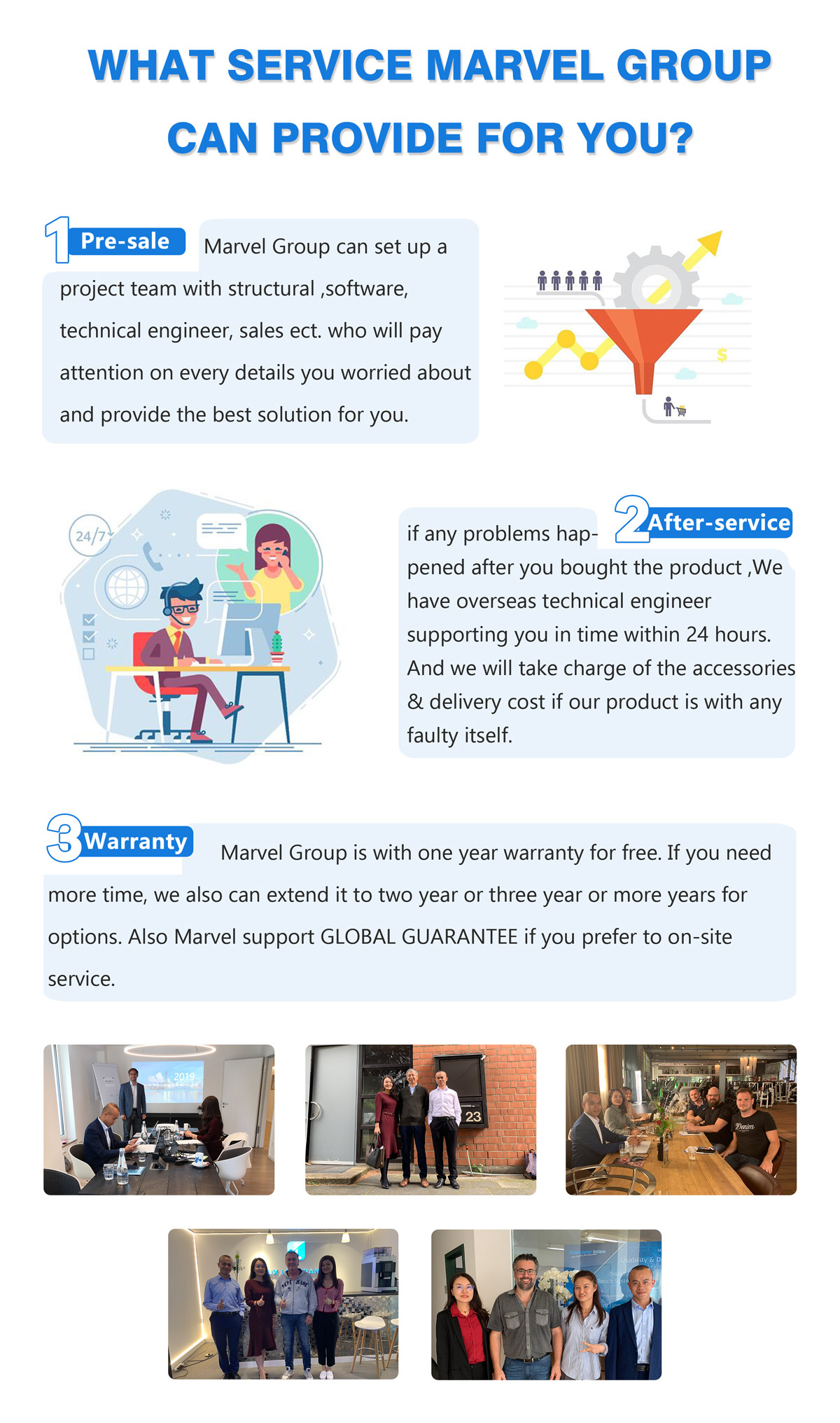 Related Products: digital signage displays outdoor outdoor digital display
Thank you for your visiting. More product pictures please contact our sales director.
Q: Are you a factory or trading company?
A: We are a OEM/ODM factory.Marvel is one of the biggest manufacturers of LCD products supporting China and the global.
Q: What payment methods your company accept?
A: We accept most of the payment methods,but mainly accept T/T,L/C,Western Union,Paypal or Alibaba Assurance Payment.
Q: How long is the warranty time for your products?
A: 1 year full warranty is quoted normally. But customer can choose to extend warranty to 2 years, 3 years.
Q: what brand of screen are you using?
A: We are using A+ level full new original LCD panel .
Q:When will you make the delivery?
A:We can make the delivery within 5-25 working days according to different models and quantities of your order.
Q: Which shipping can we provide?
A: We will offer different delivery options for customers: express, air, sea, car, or the delivery handeled by customer's own forwarder.
Q: I want to have an sample,can you provide?
A: we are very glad to provide samples for testing and qualification. All samples should be paid before shippment, and the samples price is a little higher than mass production. When the mass order placed, we can return you the samples cost. You can buy the samples from us directly using T/T, western uion, or paypal.
Q: I bought this LCD display how to use and install it?
A: To help customers use our products better, we have recorded and upload some video guidance and we have overseas support engineer team, all of whom can speak and write English.