What standards should the hardware strength of outdoor LCD advertising displays?
Outdoor LCD advertising player
, as a display device that must withstand the harsh outdoor environment, the body shell on its surface needs to be sturdy and reliable, and have dust-proof and waterproof functions, because equipment without these functions can't be realized outdoors. Long-term stable display.
Not only that, the display must be able to achieve high-definition highlighting to ensure that the display effect is not affected by sunlight during the day. Not only that, the air-conditioning function is also very important. The air-conditioning system can always keep the internal temperature of the equipment within the normal value, and prevent condensation caused by temperature differences, so that the entire equipment is always kept at a suitable temperature and dry. These functions are the basis for determining whether the outdoor LCD advertising machine can maintain long-term stable operation, and it is the key to determine the intelligence level of the machine and whether more interactive functions can be added.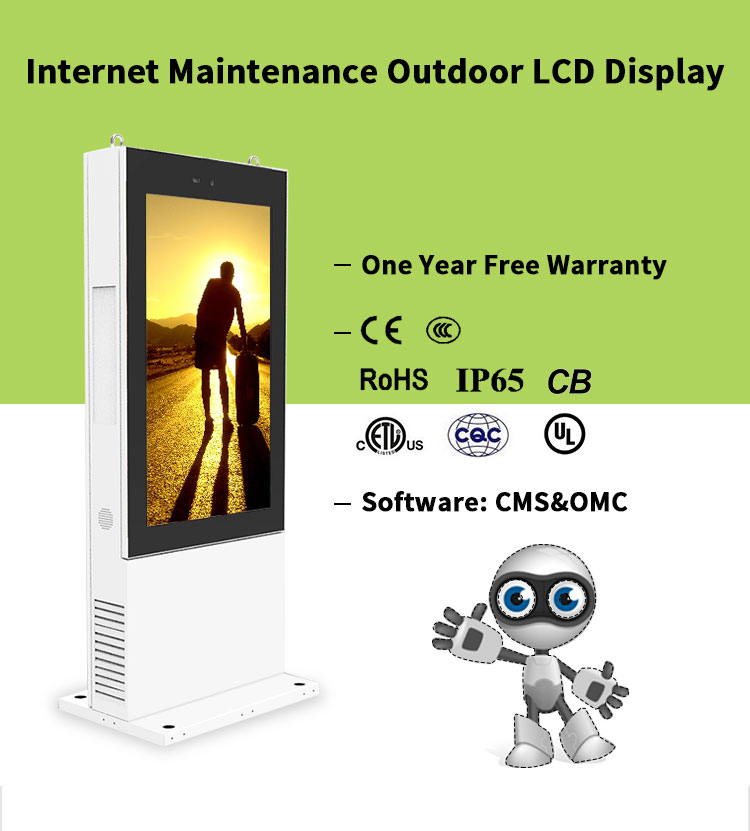 Take the outdoor LCD advertising machine produced by Marwell as an example: the all-steel cabinet is solid and reliable, and its waterproofness can reach the IP65 standard. The display screen adopts the LG brand with a resolution of 1920*1080 and a brightness of 2500nit. Ensure high-definition highlight and clear display during the day. An air-conditioning system with patented heat dissipation technology is installed inside to ensure that the internal components operate in a suitable temperature and dry environment without being affected by temperature and humidity, ensuring the life of the body and being stable and reliable at all times.